Vernon Street Library, Leeds College of Art, Leeds LS2 8PH
13th April to 12th June 2015
In February and March 2014 artist and writer, Sharon Kivland took part in a new series of Library Interventions at Leeds College of Art.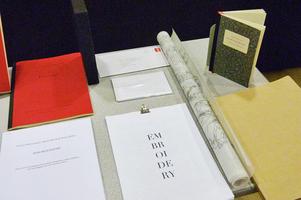 In response to our call she extended a further invitation to artists who would act as her agents (or slaves). Each agent in effect "became" Sharon, researching on her behalf, working in our library for one month, reporting back to her and documenting their findings. This Master/Slave relationship produced Reports on Knowledge, an exciting collection of documents, artists' books, postcards, drawings, a library game and map. The works in progress were presented in a series of readings at Leeds Contemporary Artists' Book Fair and the project culminated in an evening of performances at Leeds College of Art. Sharon and her eighteen agents donated the whole collection to the library's Artists' Book Collection where it forms a separate special collection.
Sharon is a Reader in Fine Art and Principal Lecturer at Sheffield Hallam University and a Research Associate of the Centre for Freudian Analysis and Research in London. Her books in the library's collection include the series Freud on Holiday, the exquisitely hand-drawn text of Ma Nana: une Histoire Naturelle and an elegantly produced series from 2013, Reproductions III: Du Monde/Of the World. All of these are exhibited alongside the Reports on Knowledge.
Sharon's agents: Abbie Canning, Alison J. Carr, Gin Dunscombe, Bryan Eccleshall, Helen Frank, Joanna Geldard, Christopher Gibson, Chris Green & Katheryn Owens, Lesley Guy, Jane Harris, Lou Hazelwood & Jo Ray, Katya Robin, Rachel Smith, Holly Stevenson, Isabella Streffen and Madeleine Walton.
Join us for a mid-show private view on Tuesday, 12th May, 5  – 7pm, where refreshments will be served. Book free tickets here.
The exhibition continues until 12th June 2015.
For further details and opening times please ring the library on 0113 2028094.